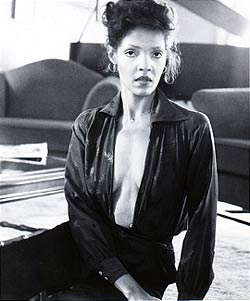 "I come alive on stage", says Nina. "I love it when I have everybody's attention and everyone is looking at me. Being on stage when the music is right is the closest thing to orgasm."
Nina's repertoire of music includes jazz, blues, rhythm and blues, and contemporary original selections. She has performed as a vocalist, pianist, actress, and dancer nationally and internationally. Nina is truly and extraordinary, talented performer.
"By day she is a low-key eighth grade teacher. By night, she transforms herself into "Naughty Nina", delighting and shocking audiences with her beautiful voice and bawdy tunes..."
Brian Columbo, West Contra Costa Times
Nina has received an overwhelmingly enthusiastic response from from her audiences during her tours of Japan, Mexico, the Bahamas, and the Caribbean islands. Her radiant beauty and elegant wardrobe, coupled with her seasoned modeling experience, add to her charismatic performance delivery. Whether singing, modeling, or acting, she is simply stunning.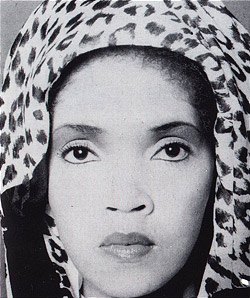 Venues
Mark Hopkins Hotel, San Francisco, CA
Fairmont Hotel, San Francisco, CA
Bimbo's, San Francisco, CA
Four Season's Clift Hotel, San Francisco, CA
Plush Room, San Francisco, CA
Hilton Hotels throughout the US
The Grapevine Supper Club, Chicago, IL
Kimball's East, Emeryville, CA
Jack London Square, Oakland, CA
Marriott Hotels throughout the US
Ceasar's Palace, Lake Tahoe, NV
Harrah's Hotel and Casino, Lake Tahoe, NV
Slates Jazz Supper Club, Walnut Creek, CA
Juneteenth Blues Festival, Vallejo, CA
Union Hotel, Benicia, CA
International House, Denver, CO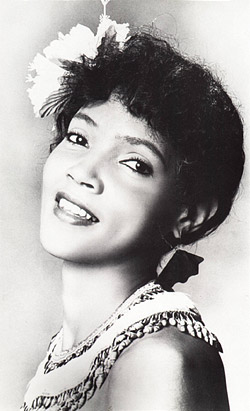 International Venues
Roi Hotel, Tokyo, Japan
Playboy Club, Tokyo, Japan
Ocho Rios, Jamaica
Paradise Hotel, Bahamas
Guadalajara, Mexico
Barbados, Caribbean Islands
Sheraton Hotel, Maui, Hawaii
Television
KBTH, "Beverly Martinez Show." Denver, CO
KTZO, "George Picard Show," San Francisco, CA
KTZO, "Telethon" Channel 20
KVIE, "Nisa's Showtime"
F.U.N. "The Joey's Bavaresco Show"
Fantasy Unrestricted Network

Musical Operas
"Carmen Jones" Black Repertory Theater, Berkeley, CA
"Lady Sings the Blues" Black Repertory Theater, Berkeley, CA
"Bubbling Brown Sugar" Black Repertory Theater, Berkeley, CA
"Billie's Song" Western Addition Cultural Center, San Francisco, CA
"Apple Tree" Bonfils Theater, Denver, CO
"Italian Straw Hat," Bonfils Theater, Denver
"Follies," Bonfils Theater, Denver, CO