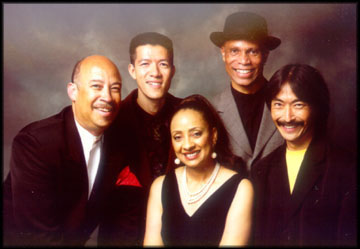 From left to right around Gerri: Melvin Butts, saxophone; Vincent Khoe, piano; Alexander Smith, bass; and Glen Iwaoka, drums.

Gerri Harris on Vocals: From the choir to R&B to Jazz, Gerri has always been a singer. Originally from the East Coast, she made California her home almost 20 years ago. She has performed with numerous musicians throughout the Bay Area including the late Jazz great, Merrill Hoover. She trained vocally with the late Judy Davis and was selected one year ago as the Mel-tones' vocalist.

Melvin Butts on Saxophone: Veteran Saxophonist, arranger and teacher. Known for his incredible arrangements and style, Melvin has toured with such jazz greats as Ray Charles, Johnny Otis and Barbara Morrisen, to name a few. Formed a unit of young Bay Area musicians whom he continues to coach. As founder and Music Director of the Mel-tones, he has carefully selected each member of the group and is
currently embarking on the group's first CD.

Vincent Khoe on Piano: Discovered his ability to compose music over 7 years ago in NYC and has continued playing original music & Jazz ever since. Vincent is originally from Hong Kong, and now resides in the Bay area playing piano professionally for the past 4 years.
Alexander Smith on Bass: Comes from a professional R&B background as an Electric Bassist during the 80's/90's. Discovered Jazz and embarked on Stand-up Bass over 5 years ago. Alex currently plays throughout the Northern & Southern California with the Mel-tones as well as various other bands and artists.

Glen Iwaoka on Drums: Native of San Mateo is one of the great craftsmen on drums. He is often referred as the "Quiet Storm". In much demand because of his light touch and solid rhythm, Glen has been featured and toured with various theatre companies on percussions.