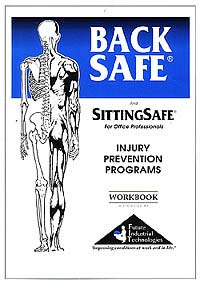 Back Care: Sit Back and Relax!
Dr. Richard L. Richman has been appointed and licensed as a locally-based BackSafe-SittingSafe Injury Prevention Consultant by Future Industrial Technologies, an internationally recognized injury prevention company. The OSHA California and Federal law requires most companies to implement, maintain and enforce a safety program.
As a spinal care expert with advanced education in industrial bio-mechanics, he has been trained to conduct BackSafe-SittingSafe workshops that have helped organizations such as Boeing, Xerox, Panasonic, Vacaville Unified School District, United States Postal Service; State of California, County of Alameda, and Fetzer Vineyards just to name a few. In August of last year Dr. Richman taught the Dispatch Unit of the Oakland Police Department. The idea is to control costly on-the-job injuries by the customization of on-site workshops for the specific job tasks performed by employees.
BackSafe-SittingSafe is an interactive program using video, stretching and unique job-specific obstacle course that ensures the employee can apply proper techniques of lifting, bending, typing, etc. in real-life situations.
Back Safe Web Site Contact Dr. Richman