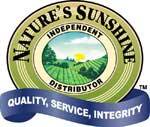 Obtain quality nutritional products at wholesale prices
Order by phone or via the Internet
Minimal shipping costs
Delivered to your front door in 2-3 working days
Ordering Guide | Place Order Now
Quality nutrition is an integral aspect of the Holistic Health spectrum. I decided to participate in Nature's Sunshine's Distributor Program 15 years ago because of the large variety and reasonable cost of their products.
There are so many products out there on the shelves, but throughout my 20 years of practicing kinesiology, when I browse through the stores, fully one-third to one-half of these products test weak! Purchasing weak nutrition is useless and costly. Nature's Sunshine products have always tested strong.
Based in Utah, this company has continually offered seminars and educational opportunities regarding herbs and nutrition for over 30 years. High quality control encourages a continued trust. And if you are among those who envision a personal business in the health industry, NSP goes the extra mile to share their knowledge and to provide training.
Whatever your current level of interest in the Nature's Sunshine, I encourage you to consider joining their program. My primary purpose for sharing this opportunity is to provide you with a long lasting, important tool to assist you in obtaining quality nutrition at a reasonable cost. If, long after my patients meet their health goals under my care, they are continually learning and taking their nutrition, then I have successfully ushered another person towards the path of Self-Health, which is the framework of the holistic health concept. Now it's easy to take good nutrition on a consistent basis. No more excuses - I invite your to take hold of this golden opportunity to change your life for the better! --Dr. Richman