Often times some of our clients may be interested in entering into a joint venture or partnership. If this comes in the form of an all cash investment then your credit score would not be an issue at all. This type of financing is commonly known as hard money, where the only requirements are the numbers on the deal. These include: the purchase price vs. the after repair value of the property, the cost of renovations, the market time to sell the property, and of course, a sound exit strategy.
The most typical type of financing, however, would be the various mortgage products that work very well for real estate investors. Typically 90% LTV, 95% LTV, 97% LTV, and 100% LTV with no prepayment penalties or seasoning issues are the vehicles of choice.
These types of mortgage products are available to Graywolf clients through special lenders. If you feel that one of these mortgage products is right for you, contact us via e-mail.
Graywolf Consulting, Inc.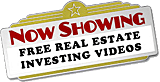 Free Real Estate Investing Videos -
Get Yours Now