You can be my personal JV partner
and make 40-70% on every e-book sold
through your affiliate link!
Mixmaster Supreme affiliates earn a full 40-70% commission! And, unlike other affiliate programs, you won't have to wait until the end of the month before you get your money!
Sick of useless "banner click through" affiliate programs where you rarely see any revenue generated? If you are searching for a REAL way to make real money online, the 'Mixmaster Supreme' partner program is for you!
The 'Mixmaster Supreme' affiliate program allows you to sell this acclaimed publication from your website, by email, or offline, and there are no fulfillment hassles. The ebook is available for download to the customers PC immediately after purchase.
Your commissions will be transferred directly into your PayPal account twice a month, no matter how small or large they may be.
No commissions limit!
We pay our affiliates bi-weekly - and there is no minimum payout limit like most affiliate programs. Why wait until you have generated over $100.00 in commissions to get paid? The 'Mixmaster Supreme' partner program pays you every two weeks - even if you've made only ONE SALE!!!
Our affiliate program is FREE to join, and you can instantly generate an ongoing stream of income without any cost or obligation on your part. You don't even need a web site!
This program is simple, profitable and helps you make more money online. It's easy to start your 'Mixmaster Supreme' affiliate earnings:
Our affiliate program is FREE to join, and you can instantly generate an ongoing stream of income without any cost or obligation on your part. You don't even need a web site!
We offer 90-day commission for referred customers, a hassle-free revenue system, paychecks every two weeks like clockwork, and real-time sales reports - 24 hours a day, 7 days a week!
It's simple to earn commissions by selling 'Spiral Marketing' on the web, and offline as well. You'll earn a 50% commission on every sale through your affiliate link. Even after ClickBank's small fees, that's a generous $17.98 per sale - just for getting the buyer to this site!
All affiliates are paid through ClickBank and are provided with Real-Time statistics. Clickbank is used by thousands of online merchants and their affiliates.
Ready to get started? It's as easy as 1-2-3, and all you need is a Clickbank ID!
STEP #1) If you are not registered with Clickbank, click here to sign up for free. (Link will open in a new browser window.) Remember the nickname you have assigned yourself, then come back here once your signup is complete.
STEP #2) Next, send me the following info to join the program and receive your own promotional web page, special updates, marketing materials, and future opportunities:
That's it! Welcome to the 'Mixmaster Supreme' Affiliate Program! Your free promotional training course, with resources, is shown below.

---


Download this

FREE

Tool

*Immediately*

and

Instantly

Increase Your Sales

by

over 900%

.

This software will protect your affiliate links and make them

look 100 times more professional

.

The Result - Testing has shown that you can make up to

9X more sales by using it!



We have made a special deal with

Richard Legg

to get it for you at

No Cost

.

You save $147

!


---

A) Here are some ads that have proven effective at pulling interest to the "Mixmaster Supreme" sales page. Use them, or create your own. Remember to insert your affiliate link and test it before you start promoting!
| | | |
| --- | --- | --- |
| Classified Ads | Solo Ads | Graphics |
| (coming soon) | (coming soon) | (coming soon) |
B) Next, click here and set up a free email address for yourself. Once you start actively promoting online, you'll get a lot of confirmation requests, counteroffers, and just plain spam in your email box. You don't want this stuff cluttering up your main email - so use the free address in all your promotions.
C) Now, promote your affiliate link everywhere you can! First, use every free advertising method available. Use press releases to offline publications. Write informative articles and send them to online newsletters.
D) Participate in forums, mailing lists, and newsgroups. Place ads on free classified sites, announcement sites, and book promotion sites.
E) Trade links with other sites. If you have a web site, set up CGI programs and create your own Search Engines, Free-For-All Links sites, Forums, and more.
F) Do everything you can do to start producing a consistent level of traffic. Use ezine advertising, ad swaps, and joint ventures.
Article: How To Generate Free Website Traffic FAST
by Willie Crawford

It goes without saying that if you don't have website traffic, the other components of your web business can't work very effectively. Without eyeballs on your sales letter, you won't make any sales!

There are many ways to generate fast free website traffic, but many of them aren't readily available to the average, lesser-known marketer.

Joint ventures are an excellent way to get tons of others to send you there traffic. However, joint ventures hinge upon relationships/connections, and many of the people with the most traffic have tons of their own products to promote. Those who own large lists are also approached about joint ventures so often that they may have commitments that extend out past six months.

If you do have a large list, getting immediate traffic to your website can be as simple as sending a compelling email. However, it takes time to build a quality list. It also takes time to build strong relationships and trust with your list members.

Another one of my favorite ways to generate lots of free traffic is by creating an inexpensive product and then allowing others to selling it and keep 100% of the profit. However, that does require a product on a really hot topic, and you still have to recruit affiliates.

You are also giving away 100% of the money on the sale (sacrificing early profits), and your goal there is not so much traffic but to build a list. I do often do this, using a script called Rapid Action Profits, which deposits proceed from the sale directly into my affiliates Paypal accounts while adding the new subscriber to my list automatically.

However, for generating traffic that is free, fast, and even long-term, I recommend creating lots of content and putting it in the path of the search engines. In fact, I often do this when I'm launching a new product, or even promoting a new affiliate product. Here are the down and dirty steps that I take:

1) Do your keyword research, striving to identify the "buying keywords" that your target customers are using. One easy way to do that is to use the "Google External Keyword Tool" to research which keywords get the most searches. This tool is free to use, and will also suggest related keywords to you.

What you are looking for is evidence that people are searching on a given phrase, and that those people are spending money. The Google External Keyword Tool will tell you this.

You can also enter a keyword phrase that you plan to target into the regular Google search box, and look at how many Google AdWords ads display on the right side of the page. These are people paying for each click from people who search on that term, and then click through to their sites. Presumably, they wouldn't pay for those clicks unless these customers were spending money.

2) Use your target keywords to craft titles for 20 articles. In addition to the keywords make sure that your title also promises some benefit. The article title is what's going to get you the most traction in the search engines.

3) Actually write those 20 articles. They can be as short as 400 words. If you have trouble writing, go to several of the bigger article directories and read what others have written on the topic. Also Google the keyword and look at what experts have had to say on the topic. Then write the articles.

If you are still stumped, simply plug your mike into your computer and then talk about the topic. Most of us are certainly good at talking. Record your thoughts then go back and organize them and you have an article (or several articles).

Add a resource box to the article that tells the reader to go to your site for more information, or resources (your product) on the topic. When linking back to your site, use your keyword as the anchor text where permitted.

4) Turn each article into a video. The simplest way to do this is probably to put your main points on PowerPoint slides. Then as you read your article, flip through the slides, and record it using Camtasia screen capture software. As easy as that, you have a movie.

5) Turn each article into a podcast (an MP3). Just read the article and record it using software built right into your computer. You can also download free recording software for tons of places on the internet. One of my favorites is Audacity.

7) Write several press releases using the article titles as your topic. Here you need to get a little creative, but as an example, for this article I would use, "Website Traffic Expert Reveals How To Generate Free website Traffic Fast."

These press releases are being written for SEO purposes, so the exact wording is not so critical. You are going to share several point in the press release and then you are going to link to one or two websites that you want to call attention to. Your links will use your keywords as the anchor text.

8) Submit these articles, videos, podcasts, and press releases to article directories, video sharing sites, podcast aggregators, and free press release sites. Since I do this for numerous products and projects, I use an automated submission site. Being a very prolific writer, I have weeks when I may do 20-40 articles (while still running my web business).

9) "Rinse and repeat!" What happens over time is that you'll soon have so much content in cyberspace that you'll achieve critical mass. At that point you'll rank for your most important keywords as well as lots of longtail keywords. At that point, you'll be amazed at the traffic.

To speed up the process you can also post your articles to an optimized WordPress blog that's been configured to "ping" RSS aggregators, social networking sites, and bookmarking sites each time that you post. If you don't know how to do that, it's beyond the scope of this article, but most webmasters familiar with WordPress can set that up quickly for you. WordPress is very simple, yet very powerful.

There you have it, "How to generate free website traffic fast!" Yes, there is work involved, but when you see the results, you'll know that it was well worth it.

Willie Crawford has been marketing online for 13 years, and used article marketing most of that time (writing over 1500 articles). His favorite tools for automatically distributing his articles, videos, podcasts, and press releases is the automated submission site: http://EasyPushButtonTraffic.com
G) Then use part of the profits as investment capital to expand your marketing to paid advertising sources such as pay per click, ezine ads, direct mail, newspaper classifieds, postcards, business cards, magazines, coupon mailers, even radio and TV - the options are endless! *
H) Don't try to sell the buyer - let your sales page do that. Instead, pre-sell them by giving a review or personal recommendation of the product, then providing the link to your page.
I) Here are some fabulous places to start posting your link online. Follow this list, and start promoting your link with a never-ending selection of sites and tools. Most are free, and all are worth your while.
*Note: We hold all of our affiliates to a strict advertising standard. We do not accept promotion of any kind through Spam or any other kind of unsolicited email advertisement, and any affiliate found promoting us using these methods will be promptly removed. If something is illegal or deceptive, do not use it to promote our program.
Every time a sale is made through your link, you will earn a 40-70% commission. You will be notified immediately by email, and your commissions will be automatically tracked through your link - ensuring you get proper credit for sales you generate. Commissions are sent directly to your PayPal account every week.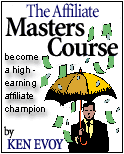 BONUS!! Become a Master Affiliate!
Download your free, FULL LENGTH
course (in pdf format) by clicking here.
Remember, the big money goes to marketers who promote with consistency and persistency. If you promote for two hours a day for thirty days, you will earn far more than someone who promotes six or eight hours a day once a month.
Thank you for joining our affiliate program. I look forward to a successful, and mutually profitable, partnership with you!
Go Forth and Prosper,
Lance T. Walker , Publisher and Career Coach
P.S. Statistics say that some affiliates make lots of money, while others never really get going. If you're serious about making big money - or even earning your living - online, here is an additional resource you're going to love having in your arsenal. I've purchased a lot of marketing materials online, and this one gets my highest personal recommendation.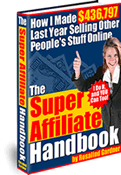 Read the amazing true story of how one woman, with no previous business experience, earns 400,000+ per year ... selling other people's stuff online! To learn exactly how she does it, Click Here.
---