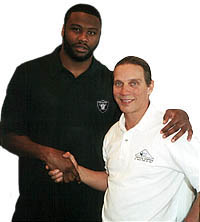 "Awesome therapeutics!"
-- DE Lance Johnstone, then with the Oakland Raiders, with Dr. Richman
Learn the secrets of the "super athlete"
• Increase muscle power up to 50% between plays
• Balance your body systems for optimum results all game long
• Discover the "Instant Body Tune-up" to help prevent injury
• Mega-Nutrition Therapy for long lasting peak performance!

Dr. Richard Richman, renowned Holistic Chiropractor and Kinesiologist, invites you to increase your
explosiveness, mental sharpness, and endurance - quickly, and without drugs of any kind. These
advanced Energetic Medicine & Bio-Engineering health methods give you the winning edge, prolong
your career, and enhance your life. Get "the difference that makes the difference" - NOW!
Dr. Richard Richman, D.C., N.D.
Has worked with members of the Raiders / Warriors / A's since 1982 including:
• Lance Johnstone • Henry Lawrence • Bobby Chandler • Purvis Short • Vida Blue
(510) 523-2120
www.DrRichman.org