Dear Lance T.,
August is here and the lazy days of summer will soon be over. You won't find the team at Adventureseek worrying, however - there are many parts of the world where summer is fast approaching and adventure awaits.
All that sunshine has to go somewhere - and so can you. Try Australia, home of the 2000 Olympic Games, the Great Barrier Reef, and the Outback. Another hotspot is Malaysia, land of the hit television series Survivor and the upcoming Eco-Challenge 2000, the world's toughest adventure race.
So read on - you'll find it all in the Adventureseeker.

Explore your World

Australian Adventures Abound

Are you ready for the land down under? At almost three million square miles, there's plenty of room for adventure. From ancient rainforests to multi-colored reefs, Australia could keep you busy for months. The possibilities are endless: scuba diving the Great Barrier Reef, camel trekking around enormous Uluru (Ayer's Rock), exploring the vast expanse of the outback or mountain biking miles of pristine trail.



Uluru, Australia
More relaxed adventures include wine tasting, hot air-ballooning and cultural exploration. From the wild to the mild, you'll find it all in Australia. Check out these adventures and you're guaranteed to see some of the best Oz has to offer.

Hot Trip Picks:
Adventure Family Trip
Multi-Sport Adventure

Explore Australia:
Guide to the Land
Oz Highlights
Searching for the perfect vacation--or just dreaming about one? Find it with Adventureseek's interactive Trip Finder.
You compare trip providers. You compare trips. You escape!
Go ahead pick an adventure!
Team Adventureseek
Part 3: Live Coverage Eco-Challenge 2000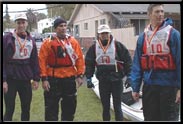 Some people enjoy the outdoors. Others live for it. Take the four members of Team Adventureseek, for example. They have just begun the race of their lifetime on the island of Borneo in Malaysia. Eco-Challenge 2000 is underway and right now Team Adventureseek is diving, kayaking, hiking and orienteering their way through the dense jungles and exotic oceans of Borneo.
Follow Team Adventureseek online as they compete in the ultimate adventure of their lives: Eco-Challenge 2000.
More about the Eco-Challenge
Explore Malaysia

Got your Gear?

We've got

everything you

need to get

outdoors!

Visit our

Gear Store

powered by REI.com

Need Help? Questions?



Save a cat. Win a trip.
Adventureseek is donating money to save jaguars, tigers and snow leopards. All you do is click to show you care. And you'll automatically be entered to win a trip for two to the Amazon!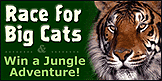 You Click.We Donate.You Win
.

Where you go. What you do.
Dog sledding in Alaska...
Bicycling in Vermont...
Diving the Caribbean...
What is your next adventure? Create your own AdventureProfile today, and start dreaming about your next getaway. It's free! Earn 250 AdventureMiles.

Tip for the Trip
Shifting Gears
Hey, mountain bikers. The lowest gear may not be your best friend on a killer hill. Approach the slope in a comfy gear. Then slowly shift down as necessary.
Tell me more