JUST RELEASED:
$397 Complete Real Estate Investing
Course - Now Yours, Absolutely Free!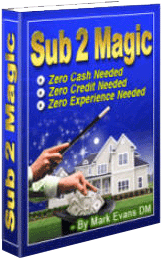 This 203-page, eye-opening course is packed with vital information that will change forever the way you invest in real estate.
Most "Gurus" charge thousands of dollars for this information - but for a short time, it's yours FREE - no strings attached!
Here's some of what you'll discover:
- A 12-Step Checklist You Can Use Every Time To Determine If A Deal Is Really A Deal...and How You Can Figure It Out With Record Speed
- Insider Strategies You Can Use To Travel All Around The
World, While Your Business Continues To Grow!
- The One Resource That Will Allow You To TRIPLE Your
Business While Reducing The Time You Spend Working...
- And a Whole Lot More!
"Subject-2 Magic" is now available for your immediate download.
Just click the button below to access the Private Members Area.
(This is a private mailing list and will never be sold or given away for any reason.)